AnneE
asked me to name 10 small happinesses, those little things in life that bring a smile or a sigh of remembered good times.
1. I remember the peace and hope that fills me in church.
2. I treasure the moments when friends drop by for a drink or to taste my latest culinary creation.
3. I try to take a moment each day to reflect.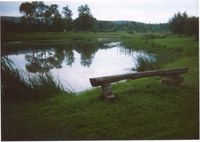 4. My grandsons are all in Idaho, a beautiful land way beyond the shores of Lake Huron. I miss them a great deal. Maybe I shall be able to see all of them when their little girl cousin makes her debut in October.
5. "Go west, young man," someone once said--he was right, but you can't eat the view.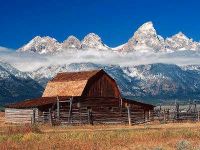 Larry Carver, Teton, Jackson Hole, WY
6. I am rereading two books,
The Running of the Tide
, by Farber and
Diana
, by Delderfield, books I read when I was still in grammar school. Each has flitted through my mind over the years. I have them stashed in different places in the house, so I can draw out the time it takes to read them again. Not only do I want to see if I can see why I liked them so much, but why they have continued to stay with me.
7. A long, soaking bath is rare treat, what with having to haul water and heat it before pouring it into the meager tub, and trying to time when I won't be interrupted--a one room house can have its drawbacks.
8. When my preserving is done for the year, and I've washed all the jars and pots and set them in the cupboard, I like to see their gem-like hues sparkling in rows, knowing that my family will eat well this winter.
9. I love to sleep in on Sabbath morning and then to awaken my household with the smell of freshly baked waffles from the iron.
10. The smell of damp, rich earth after a rain cannot be beat, as cannot the sound of geese wending their way south before freezeup.
I would like to pass this questionnaire on to:
Danno
,
Estelle
, and
Jennifer
.